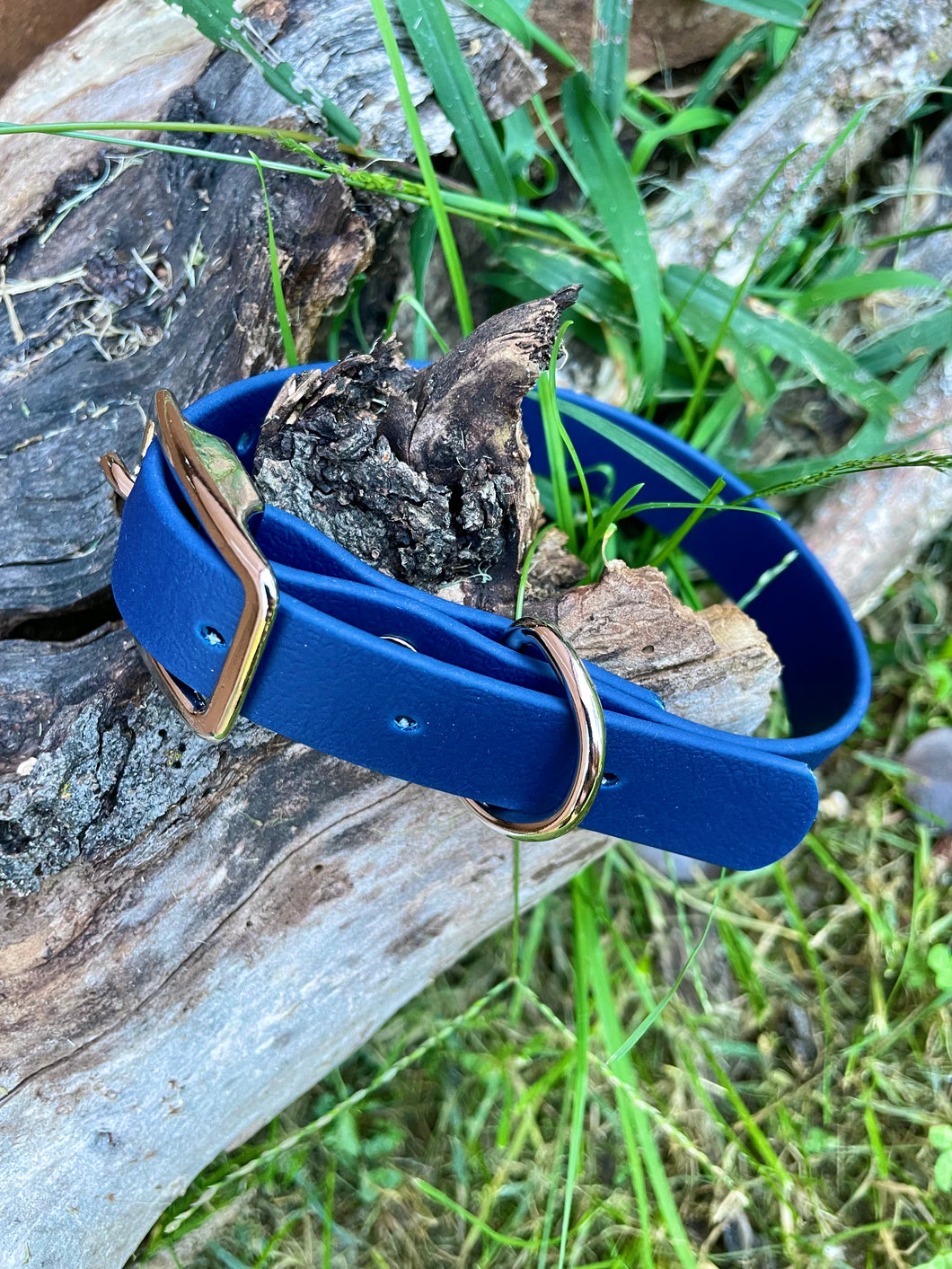 Vegan Leather Dog Collars 3/4"
Regular price $16.00 Sale
GEAR UP FOR YOUR NEXT ADVENTURE.

Introducing our 1" Wide BioThane collars! These products are PERFECT for any adventure you go on! They are polyester webbing with TPU coating that is waterproof, UV resistant, stink proof, super durable, and easy to clean. They are an excellent vegan alternative to leather products. Unlike natural leather, BioThane collars won't dry out, stain, crack or absorb bad odors. All products are currently made with 1" Biothane webbing, buckles, D ring, & heavy duty rivets to stand up against any journey you and your pup enjoy together.

All biothane collars are 100% hand made with love. We put a lot of time and effort into our products to give you the best quality possible. This isn't just a business to me it's something i'm so completely passionate about and enjoy doing. Please note that we hand punch, cut, and rivet all collars, so there can be slight variances from each product, however it just gives each item it's own unique feel! If you need your order rushed please make sure to contact me!

Size Chart 
Small         10-14"
Medium     13-17"
Large          16-20"
XL                18-22"
We generally recommend that you choose a size that will fit your dog on one of the middle holes, this allows for adjustments on either side. If your dog's neck size falls at the end of the size range, we recommend selecting the next size up. In order to choose the best collar size for your dog, it is not recommended to use a previous collar to measure as there is no standard in collar measurements. If you are unsure about what collar size to choose, message us and we'd be happy to help!
CARE:

Hand-wash with mild soap and water. Dry with a soft cloth to maintain the longevity of your new collar. Please keep in mind that brass hardware will tarnish (patina) over time. To restore your brass hardware, you can clean it with a polishing cloth or a brass cleaner. Regular polishing of hardware will minimize tarnishing (patina).
While BioThane is incredibly versatile and repels MOST of the dirt and grime it comes across, please note that it is not completely stain-proof in all circumstances. Regular cleaning is recommended to keep your BioThane gear looking new.